Freezer Won't Freeze? Here's What to Do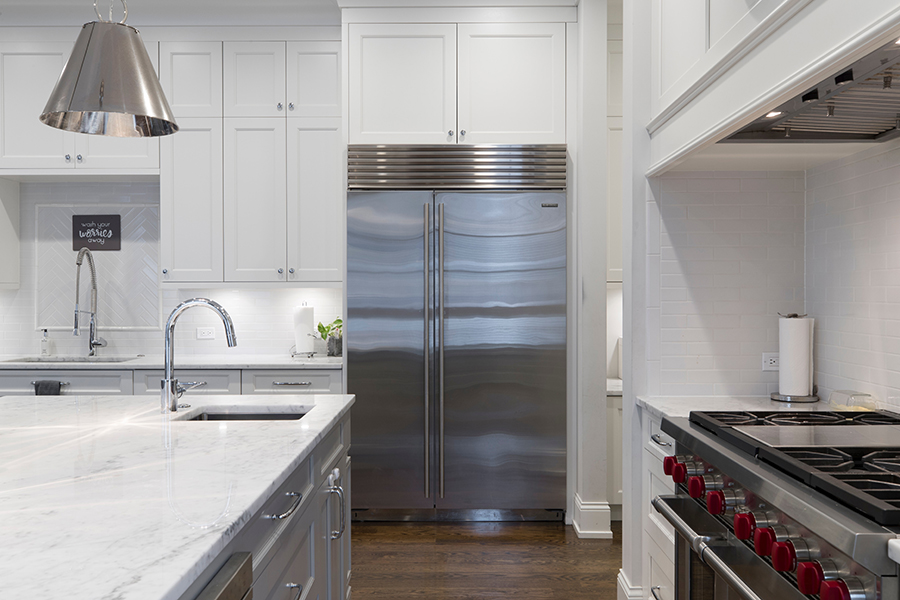 If you've noticed your freezer isn't working as well as it used to, or if it isn't freezing your food at all, there are some steps you can take to try and fix the issue yourself before calling in a freezer repair expert. Particularly if your freezer is less than 15 years old and has been in good working condition until now, you're probably looking at a simple issue like blocked airflow, dirty/dusty coils, frost buildup, or a freezer door that doesn't have an airtight seal.
Try the following steps, in order, when your freezer isn't freezing food like it should. If these don't work, call the freezer repair experts at Comfort Appliance.
Troubleshooting Tip #1: Create more space for airflow. 
A freezer works by circulating cold air throughout the compartment, so if air cannot effectively circulate, items in the freezer will not freeze. In order to function to the best of its ability, your freezer should never be more than 85% full, so try unloading items if you're hitting full capacity. Next, check to make sure the evaporator fan is not blocked by your items – this is located on the back wall of the freezer. If after you take these steps your items still aren't freezing, move on to step two.
Troubleshooting Tip #2: Remove frost buildup.
If your freezer is a self defrost model and is experiencing lots of frost buildup, it's highly likely that a part needs to be replaced. In this instance, call in a freezer repair expert at Comfort Appliance.
If you have a manual defrost type freezer and you haven't removed frost buildup in a year or so, this is likely the culprit as to why your items aren't freezing like they should. In order to defrost your freezer, first remove all the items, storing them either in borrowed space in a neighbor or family member's freezer or in a cooler packed with lots of ice packs. Next, power down the freezer and remove shelves and trays. Place plenty of towels around the base of the unit. To melt the frost, you can either just leave the doors open or speed up the process by putting bowls of boiling water in the unit, or blowing on them with a hot hair dryer. Once the frost has melted entirely, take this opportunity to clean the freezer components. Finally, make sure the freezer is completely dry before turning the power back on.
Troubleshooting Tip #3: Check door gaskets.
Another common culprit for a freezer that won't freeze is a door that doesn't provide an airtight seal. This is an easy thing to check – open the freezer door and place a dollar bill between the seals of the door and close. Then, try pulling the dollar out. If it comes out easily, your freezer door isn't closing tightly enough and it's time to call in a freezer repair specialist to replace it. If it's difficult to pull out, you're in good shape. Try this dollar bill test at several different points around the door seal.
Troubleshooting Tip #4: Dust the coils. 
If you've tried the tips outlined above and your freezer still won't freeze, try unplugging the unit and bringing it away from the wall to inspect the coils at the back of the unit. Using a handheld vacuum attachment, remove dust from the coils before moving the freezer back into place and powering back on.
Freezer still won't freeze? It's time to call Comfort Appliance. 
If after you've tried the tips above your freezer still isn't working, call in the experts at Comfort Appliance. We provide freezer repair solutions to customers across central Georgia, including Atlanta, Covington, Lawrenceville, Conyers, McDonough, Loganville, Snellville, Stockbridge, and Grayson.
We work on nearly all common freezer brands, including KitchenAid, GE, Bosch, Frigidaire, Whirlpool, Maytag, Cafe, Danby, LG, Haier, and more.
How do I know if I should repair or replace my freezer? 
The lifetime of most standard household freezers is about 10 to 15 years. So, if your freezer is at or above the 10 year mark and the solutions outlined below don't work, you might consider shopping around for a replacement.