Why trust Comfort Appliance?
HOME APPLIANCE REPAIR EXPERTS
Providing Stockbridge and surrounding communities with reliable refrigerator repair, washer/dryer repair, freezer repair, dishwasher repair, ice maker repair, microwave repair, garbage disposal repair, and much more.
COMMERCIAL FRIDGE & FREEZER REPAIR
Also providing expert commercial refrigerator, commercial freezer, commercial ice maker, and commercial prep table repair services.
APPLIANCE REPAIR EXPERTISE
From the kitchen to the laundry room, the expert repair team at Comfort Appliance has the knowledge and expertise to provide exceptional appliance repair for customers just like you. 
THE QUICKEST REPAIRS
You don't have time to wait around for a repair – at Comfort Appliance, we complete most of our repairs on the first visit.
Offering a 90-day warranty on all appliance parts provided through Comfort Appliance.
Give our office a call today to schedule your appliance repair. Proudly offering weekday, Saturday, and evening hours.
We are a proud, local company servicing customers like you in Stockbridge and surrounding communities.
Schedule Service
Call Now or Message Us
Appliance issues are always an inconvenience and often an emergency, so having an expert appliance repair partner like Comfort Appliance is key. We proudly provide expert service to appliance owners just like you in Stockbridge and all surrounding communities.
Our appliance repair expertise extends to all types of home appliances, including:
Oven repair
Stovetop repair
Cooktop repair
Range repair
Refrigerator repair
Dishwasher repair
Washer repair
Dryer repair
Microwave repair
Trash compactor repair
Ice maker repair
…and more.
We also provide expert commercial cold appliance repair services, including:
Commercial refrigeration repair
Commercial freezing repair
Commercial prep table repair
Commercial ice maker repair
Here's what you can expect when you call Comfort Appliance: first, we talk to you to understand what is going on with your appliance and begin to brainstorm how we can best help you. Then, we set up a time to come out and take a look in-person. We expertly diagnose the issue you're experiencing and pull from our extensive knowledge of appliance repair tactics to create a plan of action. If the repair requires replacement parts, we either pull from our in-house inventory or order your parts right away. Our goal is to get your appliance satisfactorily repaired as quickly as possible, and 80% of our service calls result in a repair that same day.
Brands we repair include Amana, Bosch, GE, LG, Maytag, Miele, Jenn-Air, Frigidaire, Samsung, Sears, Kenmore, Whirlpool, and many, many more.
When you need appliance repair, Comfort Appliance is here. No matter the issue, give Comfort Appliance a call. We can help you with questions, troubleshooting, parts, or anything else you need.
How do I know if you can repair my appliance?
If you have a home appliance that needs repair, chances are we can fix it. We've seen it all when it comes to refrigerator repair, dishwasher repair, washer/dryer repair, microwave repair, ice maker repair, stove repair, oven repair, cooktop repair, and more. Give us a call today to get started.
How do I know if I should replace or repair my appliance?
If you are experiencing a problem with a new-ish appliance (less than 10 years old), one that is high-quality or expensive, or one that was custom built or is built-in, it is usually worth your money to repair. For lower-ticket items like microwaves or appliances that are more than 10 years old, you may consider a replacement. That being said, certain vintage appliances can last for decades. At Comfort Appliance, we can help you determine whether your appliance is worth repairing, or if you'll save yourself time and money by going shopping for a new model.
How long will my repair take?
We are proud to tell you that more than 80% of our repair calls result in a same-day repair. However, that means that 20% take a bit longer. Why? Extensive or complex repairs, sourcing parts, or a booked repair schedule are factors that may contribute to a longer repair time. However, we will do everything we can to repair your appliance as quickly as possible. Give us a call today to discuss.
What types of home appliances do you service?
We service all types of home appliances, providing dishwasher repair, washer/dryer repair, refrigerator repair, freezer repair, ice maker repair, garbage disposal repair, trash compactor repair, microwave repair, and more.
What types of commercial appliances do you service?
We are the expert commercial cold appliance repair team in Stockbridge, providing commercial refrigerator repair, commercial freezer repair, commercial prep tables, and commercial ice machines. Unfortunately, we do not service any hot appliances, washer/dryers, or dishwashers for commercial clients at this time.
What brands do you service?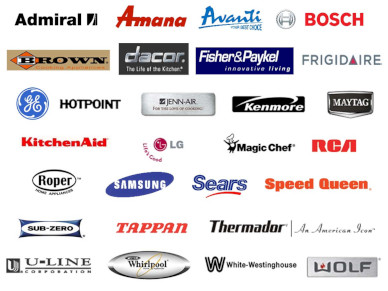 We service nearly all appliance brands, from high-end to low-end, common and recognizable to niche.
Our service list includes Amana, Bosch, GE, Samsung, LG, Whirlpool, Maytag, Kenmore, Jenn-Air, Wolf, KitchenAid, Element, Fabor, Electrolux, Hotpoint, Perlick, Monogram, RCA, Premiere, Speed Queen, Superiore, Roper, Capital, Broan, American Range, Phillips, RCA, Cafe, Smeg, IIO, Bertazzoni, Magic Chef, United States Stove, Sub-Zero, Verona, Z-line, Windster, Avanti, Danby, Element, Gladiator, Hoshizaki, Scotsman, Thermador, Unique Off Grid, and many more.
What brands do you not repair?
We have seen it all in the appliance repair world, and we have worked on almost all brands available to purchase in the US. While there are a couple brands we don't work on, it is highly likely your appliance is something we can repair. Give us a call today to discuss your needs and we will let you know how we can help.
What type of warranty do you provide?
We offer a 90-day parts guarantee on anything we provide. Parts provided by the customer for the repair are not protected under this warranty.
Is there a trip charge?
We charge $79 for a diagnostic visit. However, when you decide to complete the repair with Comfort Appliance, that $79 is taken out of the balance for your repair.
When and how can I pay for my repair?
You will pay for the repair in full once the job has been completed. We do charge a refundable diagnostic fee of $79 that will go toward the total cost of repair. If parts need to be ordered, we will ask for a deposit that is not refundable if the repair is cancelled. However, if the part does not arrive within 30 days, we can refund that deposit.
What are your service hours?
Monday to Friday, 8am – 7pm. Saturdays 8am – 2pm. We are closed on Sundays.
What areas do you serve?
We provide service in Stockbridge, Woodhaven Estates, Whitehouse, Windhaven Plantation, Flippen, Allendale Heights, Rex, Jonesboro, Willow Bend, Bonanza, Lovejoy, Irondale, Wexwood, Ansley Pointe, Riverdale, Morrow, Lake City Forest Park, Ellenwood, McDonough, Blacksville, Hampton, Conyers, Redan, Atlanta, Fairburn, Tyrone, Brooks, Experiment, Locust Grove, Jackson, and beyond.
COMMON APPLIANCE REPAIR ISSUES
Commercial Cooling Appliances
Your restaurant or food business relies on functioning cold appliances, so let Comfort Appliance help when you experience issues.
Here are some common ones we see:
Commercial refrigerator will not maintain the desired temperature, or runs too cold or warm.
Commercial freezer does not get cold enough or experiences frost buildup.
Commercial prep table experiences temperature issues.
Commercial ice maker jams or breaks down.
Hardware issues – broken or cracked doors, handles, knobs, etc.
Cracked glass.
Leaking water.
Clothes Washers & Dryers
Don't let washer/dryer issues ruin your week – let Comfort Appliance help today. Give us a call if:
Your washer is not empty of water after the cycle is complete.
Your dryer does not get clothes dry or takes a long time to dry clothes.
You suspect your dryer vents or filters need cleaning.
Doors won't close or stay close, knobs are broken or busted, or you're experiencing other hardware problems.
The unit/units bang around or rock while cycling.
You have issues with the display panel – error codes, lack of power, etc.
Fridges & Freezers
Here are some of the most frequent issues we get called about. If you're experiencing any of the following, we can help.
Refrigerator does not reach or maintain the desired temperature or is freezing your food.
Freezer does not keep food frozen or does not maintain a consistent temperature throughout.
Buildup of frost and ice in the freezer.
Water leaking or pooling around the refrigerator or freezer.
Loud noises or strange odors coming from a recently cleaned unit.
Hardware issues, like a broken handle or door that won't stay closed.
Smart display panel malfunction.
Ovens & Stoves
No matter what you call it, it's an essential appliance. Our team at Comfort Appliance can help you with any of the following:
Oven temperature issues
Broken or malfunctioning self-cleaning cycle or broiler.
Broken or malfunctioning convection oven fan.
Cracked, broken, or missing hardware – knobs, handles, buttons, etc.
Oven door issues, like a door that won't stay closed or does not seal airtight.
Stovetops
Whether you have a gas or electric range, we can help you with a variety of issues, including:
A gas range that won't light or stay lit.
An electric range that does not heat or maintain a certain temperature.
A cracked or broken cooktop surface.
Hardware issues, such as a broken or missing knob.
…or anything else that comes up.
Dishwashers
The dishwasher is one of those modern conveniences that can make life much easier. So, when it breaks down, you really feel the pain. Let us help you with these common dishwasher issues:
Dishwasher doesn't adequately clean or dry dishes.
Display panel buttons are broken or the smart display does not function.
Water pools in the base of the unit or leaks out of the unit.
Unit emits a strong smell even after being cleaned.
Issues with the soap dispenser or spray arm.
…something else.
Comfort Appliance of Stockbridge
Appliances break – that's when you call Comfort Appliance. For more than 5 years, we have helped appliance owners in Stockbridge and surrounding communities with their refrigerator, dishwasher, washer/dryer, oven, and other appliance repair needs. We also support local businesses with expert commercial cooling appliance repair. When your appliance breaks down, you know what to do next: call Comfort Appliance.
Comfort Appliance Repair
(678) 480-5406
Covington, GA
Hours
Monday-Friday, 8am – 7pm;
Saturdays 8am – 2pm;
Closed on Sundays. 
Service Area