Commercial Refrigerator Shopping Guide
Commercial refrigerators are an essential component of safe food storage and preparation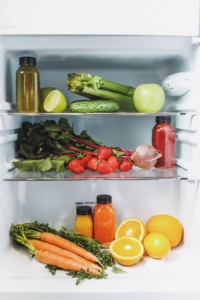 in a number of different industries. In addition to their use in restaurants, commercial refrigerators can also be found in schools, healthcare facilities, and corporate buildings, and many other types of facilities. For those looking to replace their current unit, read on for everything you should know about shopping for a new commercial refrigerator.
If you're still deciding whether to repair or replace your current unit, contact Comfort Appliance. We are the premiere commercial refrigerator repair experts in the greater Covington area and would be happy to answer your questions and provide the service you need at a great price.
Different Types of Commercial Refrigerators
When it comes to commercial refrigeration, today's consumer can choose from a variety of different options. Some of the most common styles include:
Single door reach-in refrigerators and freezers. These quick-access units are great for compact spaces and provide a nice alternative to a large commercial walk-in cooling unit if you don't need quite that much space.Single door reach-ins are capable of storing portions of prepared meats, produce, and garnishes to be used on a given day.
Multiple door reach-in refrigerators and freezers. These appliances offer double the storage capacity of single door models. Users are able to store large prepared food items and packaged goods in bulk, and allow for minimal restocking trips from the walk-in freezer.
Pass-through refrigerators and freezers. Accessible from both sides, these appliances allow for kitchen or prep space to be maximized. Pass-through styles often come with the option to join multiple sections together in order to create scalable storage capacity for a variety of kitchen sizes. High-volume organizations such as schools and healthcare facilities benefit greatly from pass-through refrigerators.
Walk-in refrigerators and freezers. Often situated in the receiving area of an establishment, walk-in refrigerators allow for the easy storage of crates of meat and produce. Deliveries are able to be received directly into walk-in units, causing less traffic and disruption to the kitchen itself.
Undercounter refrigerators and freezers. Conveniently located underneath prep counters, these appliances offer convenience and economical storage in a variety of tight kitchen spaces. These units are an ideal solution for pizzerias, delis, and ice cream shops.
Types of Commercial Refrigerator Doors
No two commercial kitchen facilities are identical, and determining what type of door your refrigerator should have requires a careful assessment of how your particular kitchen operates.
Swing doors are a common style found on commercial refrigerators that make loading and unloading easier, but they can block the flow of traffic in kitchens where space is limited.
Half doors operate much like swing doors, but save on energy costs because a user is only opening a small portion of the appliance at a time. This also helps regulate the internal temperature of the unit. While some half doors are also prone to blocking traffic, modern options allow for a sliding feature that circumvents this issue.
In terms of door material, solid doors can be easier to clean than glass and provide more insulation, resulting in a more energy efficient unit. However, chefs and other users will lose product visibility compared to glass door options, whose increased visibility often results in less time spent opening and perusing inside the appliance.
Additional Features to Consider
To aid in cleaning and sanitizing, some commercial units offer removable gaskets. These components, often made of rubber or silicone, provide an airtight seal around the appliance door that keeps cold air inside. This often leads to more efficient operation.
Most new models also offer digital thermostats, which allow users to accurately set the cooling temperature. Adjustments can be made remotely based on the user's needs.
Refrigerator compressor location is also important to consider. Bottom-mounted compressors pull in cooler air, which is ideal in hotter environments. Additionally, shelves on these units are often higher and easier to reach. Downsides to bottom-mounted compressors include frequent buildup of dust and grease from the floor.
In contrast, top-mounted compressors pull in warmer air, which is often a better option for cooler environments. These models are also less likely to clog, and storage space is not compromised. However, top-mounted units are less accessible for cleaning and service.
No matter what type of commercial refrigerator you use, Comfort Appliance is here for support. Whether you have questions about a new unit or looking for expert commercial refrigerator repair or commercial freezer repair, give us a call. We provide expert service to corporate partners across Covington, including Atlanta, Conyers, McDonough, Snellville, Loganville, Social Circle, and all surrounding communities. We proudly service most major appliance brands, including Centerline, Arctic Air, Continental, Beverage Air, Hoshizaki, Electrolux, Kelvinator, MoTak, Master-Bilt, Summit, U-Line, Traulsen, and Victory.