Is It Smarter to Repair or Replace a Broken Microwave?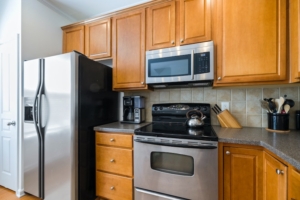 If your microwave is on its last legs or just not working as it should, you're probably wondering if it's worth repairing or replacing. Depending on the style and level of customization, microwaves can either be very cheap to replace or not cheap at all. As an appliance owner, you want to make sure you're making the smartest decision. In this blog post, we'll take a look at some factors you should consider when deciding whether to repair or replace your broken microwave.
Microwave Repair Basics
You may be surprised to learn that repairing a microwave can be a cheaper and more eco-friendly way to deal with an appliance that isn't working right. When a microwave is repaired, it's often fixed with parts from other microwaves or the same manufacturer. This means that you don't have to throw away your broken microwave and can instead keep using it for many years to come.
There are some basic repairs that are fairly common in microwaves: replacing bulbs, fixing door closures, and fixing the rotator. Sometimes, these repairs can be done by you, but most of the time they are best left to a greater Covington microwave repair professional like Comfort Appliance.
Other Common Microwave Repairs
In addition to bulb replacement and door closure fixes, common microwave repairs include: replacing the motor (usually due to failed bearings), replacing components such as capacitors or transformers on the control board, and repairing or replacing the waveguide cover.
If your microwave is not heating, it may be due to a problem with the magnetron. The magnetron is responsible for producing the "micro" waves that heat your food and beverages. If the magnetron is not working, your food will not heat up. This repair can be costly, so if your microwave is more than five years old and not a high-tech model customized to fit your kitchen, you may want to consider replacing it.
If your microwave has a turntable that doesn't turn or another type of mechanical problem, the repair costs will likely be far less than what you'd spend on a new unit. However, if the touchpad is not responding (a common problem with older microwaves), then fixing this issue will likely be more expensive than buying a new one.
If your microwave is not heating, it's best to call in a professional to take a look at it and give you an estimate for the cost of microwave repair. Trying to fix it yourself could result in even more damage and may end up costing you more in the long run.
Reasons to Consider Microwave Repair
While many of us bought our microwave for less than $100 at a big box store, some households have a microwave that was custom fit and built into the kitchen cabinetry. You may also have a microwave that has extra interior space, extra power, or high-end features. Some "smart" microwaves on the market right now can cost as much as $600!
If your microwave is an important part of your kitchen and you don't want to live without it, then repairing it may be the best option. Contact Comfort Appliance for microwave repair in Conyers, Covington, Loganville, Atlanta, Stockbridge, and surrounding communities.
Reasons to Consider Microwave Replacement
Sometimes, replacing your broken microwave is simply the smarter option. Here are a few scenarios in which microwave replacement should be considered:
The microwave is more than seven years old
It's a basic model with no special features
The  microwave is too small or large for your needs
It's damaged beyond repair
The cost of repairs would be more than 50% of the cost of a new microwave
If you fall into any of these categories, then it may be time to consider replacing your broken microwave.
Your microwave is a staple of your kitchen, and when it breaks down you need an expert who can help with an efficient repair. Comfort Appliance proudly repairs microwaves from all major appliance brands, including GE, LG, Samsung, Maytag, KitchenAid, Panasonic, Whirlpool, Amana, and more. Contact us today to schedule your microwave repair!