Why Comfort Appliance Repair?
CONVENIENT HOME APPLIANCE SERVICE
If it's a home appliance, we repair it. Our experts have seen it all when it comes to dishwasher repair, refrigerator repair, washer repair, dryer repair, microwave repair, ice maker repair, and freezer repair for appliance owners just like you in McDonough. 
COMMERCIAL COOLING APPLIANCE REPAIRS
Call Comfort Appliance with your commercial refrigerator repair, commercial freezer repair, commercial prep table repair, and commercial ice machine repair needs.
With Comfort Appliance, you can trust us with the appliances you need to get through the day. We have expert solutions for nearly any appliance repair challenge and can't wait to show you what we can do.  
MORE SAME-DAY REPAIRS
Eighty percent of our service calls result in a same-day repair so you can get back to business fast!

You can rest easy knowing all parts used by Comfort Appliance on your repair are covered by a 90-day guarantee.
CONVENIENCE & RELIABILITY
You can rely on Comfort Appliance to be there when you need us – daytime, evening, and Saturday scheduling available.  
We treat our customers like family and proudly serve McDonough and surrounding communities with expert appliance repair.
Schedule Service
Call Now or Message Us
When you need appliance repair fast, call Comfort Appliance. We are the McDonough region's preferred appliance repair experts, servicing all home appliances as well as commercial refrigeration, freezing, ice making, and prep tables.
Our appliance repair list is extensive, and includes home appliances such as:
Dishwasher repair
Oven repair
Refrigerator repair
Stove repair
Range repair
Cooktop repair
Microwave repair
Washer/dryer repair
Ice machine repair
Garbage disposal repair
Trash compactor repair
If you are a restaurant or food service owner, we also offer:
Commercial cold appliance repair
Commercial refrigerator repair
Commercial freezer repair
Commercial ice maker repair
Commercial prep table repair
Appliance repair is our bread and butter, but customer service is our true passion. Your experience with Comfort Appliance will likely start with a call to our office to discuss how we can best help you with an appliance repair need. Next, we will come to your home or business to take a look at the appliance in question, diagnose the issue, and perform the repair. We will connect you with the necessary parts needed to perform the repair, either by pulling from our in-house inventory or placing an order. Our goal is always to repair your appliance either that same day or, if that's not possible, as quickly as we can.
No matter what appliance brand you have, we can repair it. Servicing all major brands including Maytag, GE, Sears, Miele, KitchenAid, LG, Whirlpool, Frigidaire, Samsung, Bosch, Jenn-Air, Amana, Kenmore, and more.
Comfort Appliance is here when you need appliance repair, have questions, or want to ensure you are doing everything you can to maintain your appliance. Give our office a call today.
What types of appliances do you repair?
When it comes to home appliance repair, we know our stuff. At Comfort Appliance, we repair all home appliances, including refrigerators, freezers, microwaves, washers, dryers, dishwashers, even less common ones like trash compactors and ice machines. Give us a call today to discuss the issues you're experiencing and we will let you know how we can help.
Will I save money by repairing my appliance instead of replacing it?
The answer to this question depends on several factors, like the age of the appliance, how much you bought it for, whether it is custom or "smart," and whether it is built-in. In many cases, an appliance less than a decade old is worth fixing, while an old or inexpensive appliance that has broken down is probably better scrapped. At Comfort Appliance, we will be honest with you when we diagnose your appliance issue as to whether you should spend your good money on a repair, or if it's time to go shopping.
How long will it take you to repair my appliance?
Depending on the type of repair you need, whether we need to order parts, and how booked we are on a given day or week, it is likely that we will be able to repair your appliance on the same day we come for our diagnostic visit. We are proud of our 80% same-day repair rate, and love helping our customers in a timely fashion. However, if your repair does take a little longer, you can rest easy knowing we are doing everything we can to move the process along so you can get back to business.
What home appliances do you repair?
We provide expert service to all major home appliances, including washer and dryer repair, refrigerator repair, dishwasher repair, freezer repair, microwave repair, oven repair, cooktop repair, range repair, trash compactor repair, ice maker repair, and garbage disposal repair.
What commercial appliances do you repair?
We are proud to provide expert repair on any and all commercial cooling appliances, including refrigerators, freezers, ice machines, prep tables, etc. We do not provide commercial washer/dryer repair, commercial hot appliance repair, or commercial dishwasher repair.
What appliance brands do you repair?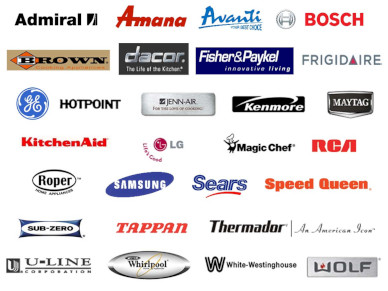 We service all appliance brands with few exceptions.
We work on nearly any brand of appliance, including Whirlpool, Samsung, Sears, Maytag, KitchenAid, LG, GE, Amana, Bosch, Wolf, Jenn-Air, Electrolux, Cafe, Admiral, Bertazzoni, Dacor, Faber, IIO, Magic Chef, Z-line Kitchen & Bath, Verona, Tappan, RCA, Perlick, Phillips,U-Line, Windster, Avanti, Broan, American Range, Cuisinart, Capital, Element, Forte, Danby, Frigidaire, Hoshizaki, Roper, Thermador, Unique Off Grid, Scotsman, Gladiator, United States Stove, Sub-Zero, Renaissance, Speed Queen, Superiore, Premiere, RCA, Monogram, Hotpoint, Fisher & Paykel, Perlick, and others.
What brands can you not repair?
When it comes to appliance repair, we are up for any challenge. That being said, there are a couple brands we do not service, but we do work on nearly any brand available for purchase in the US. If you're wondering whether our team at Comfort Appliance can help with your appliance repair, all you have to do is pick up the phone and give us a call. We can't wait to hear from you.
What type of warranty protection do you provide?
We offer our Comfort Appliance 90 day parts guarantee, which protects any part we provide for your repair. Customer-provided parts are not included in this warranty.
Do you charge a trip fee?
We do – $79 – but we subtract that from the total cost of your repair when you decide to complete the service with Comfort Appliance!
How do I pay and when is it due?
We will ask you to pay for the full repair when the job is finished. We do charge a trip fee of $79 that can be refunded if you decide to move ahead and repair with us. We also charge a deposit for any parts ordered to protect us in case the repair is cancelled.
What are your hours of operation?
We offer convenient weekday hours – Monday through Friday 8am – 7pm. On Saturdays we are open from 8am – 2pm. Sundays we are closed.
What is your service area?
Our service area includes McDonough, Blacksville, Flippen, Locust Grove, Heron Bay, Jenkinsburg, Jackson, Flovilla, Indian Springs, Worthville, West Forest, Abide Awhile, Porterdale, Conyers, Stockbridge, Windhaven Plantation, Ellenwood, Rex, Morrow, Lake City, Forest Park, Mountain View, College Park, Union City, Williamsburg Park, Riverdale, Wexwood, Jonesboro, Willow Bend, Irondale, Bonanza, Lovejoy, Hampton, Sunny Side, Experiment, Brooks, Senoia, Fayetteville, Williamson, Zetella, and more.
Clothes Washers/Dryers
There are few modern appliances that make life easier than a clothes washer/dryer. Don't wait to call Comfort Appliance if yours isn't working as it should. Here are some common issues we fix:
Washer unit that does not drain after the cycle has finished.
Dryer that takes forever to get clothes dry.
Spin cycle or agitator problems.
Clogged dryer vents.
Cracked, broken, or busted hardware.
Smart display error codes or lack of power to display.
Dishwashers
Even if you use your dishwasher all the time, it's hard to truly appreciate the convenience of this appliance until it breaks down. The team at Comfort Appliance can help with these and most other dishwasher issues:
Unit does not get dishes clean or the drying cycle doesn't work.
Issues with the spray arm or soap dispenser parts.
Other broken hardware, such as handles, buttons, etc.
Pooling or leakage around the base of the unit.
Water pooling inside the unit after the cycle is finished.
Odors or smells that persist even after a thorough cleaning.
Loud or unusual noises coming from the unit.
Refrigerators & Freezers
Refrigerator problems are almost always a big hassle, so call Comfort Appliance if you experience any of the following common refrigerator or freezer issues:
Refrigerator unit not cooling to desired temperature or overcooling and freezing your food.
Freezer ice buildup.
Freezer not freezing food.
Ice maker malfunction.
Water leakage around the unit.
Loud or unusual sounds coming from the unit.
Broken parts or a door that doesn't seal shut.
Issues with a smart display.
Cooktops
At Comfort Appliance, we can help with all kinds of gas or electric cooktop problems, including:
An electric cooktop that won't maintain heat or won't heat at all.
A gas cooktop that does not light or maintain a steady flame.
A chipped or cracked glass range surface.
Missing knobs, busted buttons, or other hardware issues.
…or something else — we've seen it all!
Stoves & Ovens
Don't let a broken oven keep you from whipping up a delicious dinner for your family or friends. The Comfort Appliance repair experts can help you with:
Oven temperature issues – either getting to or maintaining a set temperature.
Hardware issues – broken knobs, cracked handles or glass, missing buttons, etc.
Malfunction with elements such as the self-cleaning cycle, broiler, or convection fan.
…or anything else you're experiencing.
Commercial Refrigerators & Freezers
If you're a food service business owner, you know the importance of having functioning refrigeration. But when the inevitable malfunction happens, call Comfort Appliance. We have solutions for all types of issues, including:
Refrigerators and freezers that dip below or above the desired temperature.
Leakage or dripping water from the appliance.
Doors that don't seal shut, broken or cracked handles, lost knobs, busted buttons, etc.
Prep table problems.
Ice maker issues.
Strange noises or odors that remain after cleaning the appliance.
Comfort Appliance of McDonough
Appliance owners like you in McDonough and communities across central Georgia trust Comfort Appliance when things go wrong. With 5+ years of appliance repair experience, we are the partner you can trust to provide effective and efficient appliance repair solutions. We also support the local food service industry with expert commercial cold appliance repair.
Comfort Appliance Repair
(678) 480-5406
Covington, GA
Hours
Monday-Friday, 8am – 7pm;
Saturdays 8am – 2pm;
Closed on Sundays. 
Service Area